"The future is ours, and we are taking it back through organizing." – Celi Tamayo-Lee, San Francisco Rising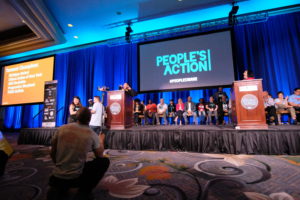 Last month we had a powerful experience at the People's Action 2019 Convention – The People's Wave that took place from April 28th through the 30th in Washington DC. PUSH Buffalo brought 100 community leaders on two buses to the Convention. It was an honor to be able to spend time meeting folks from across the country, deepening relationships with one another, and building people power.
The People's Wave Convention brought 1,000 people together for three days of inspiring speakers, information-filled workshops, and a series of direct actions on the last day that demonstrated our collective power throughout Washington DC.
Our Executive Director, Rahwa Ghirmatzion, co-moderated the opening plenary featuring civil rights activist Alicia Garza. Our Co-Director of Organizing, John Washington, helped lead a workshop on a Homes Guarantee for all. Our Climate Justice Organizer, Geovaira Hernandez, helped lead a workshop on 100% Clean and Just Energy for all. Many members of PUSH staff and volunteers helped lead and support our cohort throughout the convention. We all helped each other out and learned from one another.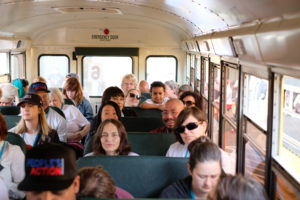 After two days of plenaries, workshops, speakers, direct action trainings, and celebrations, the final day took all 1,000 of us out in the streets of Washington DC to demonstrate our people power. First, we all gathered in the main convention hall and heard from inspiring activists and leaders, including Senator Bernie Sanders and NYC Public Advocate Jumaane Williams.
Direct Actions means taking to the streets, making our voices heard, and encouraging others to speak up. Then we all boarded a dozen buses and dispatched to the Partnership for American's Healthcare Future, a conservative group working to shut down universal health care. We filled the inside lobby and poured out onto the sidewalk, chanting "FREE MEDICARE FOR ALL" and calling out lobbyists and other so-called medical professionals for being greedy and putting profits over people's lives.
Our next stop was the U.S. Environmental Protection Agency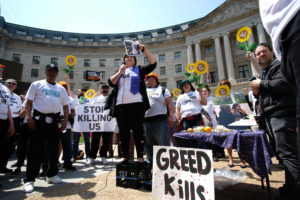 headquarters to demand that we put People and Planet first. PUSH Co-Director of Organizing and Clean Air Coalition board member, Emily Terrana, gave a powerful speech honoring the life of her mother, Julie Terrana, who passed away from cancer one year before to the day. Julie lived her entire life next door to the Tonawanda Coke plant, which is now shut down after the company was convicted of criminal Clean Air Act and Resource Conservation and Recovery Act charges for its history of polluting the surrounding neighborhoods.
After that, we headed to the U.S. Capitol for lobbying at the U.S. House of Representatives and U.S. Senate. Some members of the PUSH cohort acted as police liaisons, while many of us made our way back onto the buses which took us back home to Buffalo, New York.
This article was made possible by the following people.
Article by Laura Evans; Video: Aaron Bartley and Lonnie Barlow; Photos: Clarke Gocker, Phaw Mu Nar, Aaron Bartley, and John Bono. We would also like to thank the organizers of People's Wave, the PUSH Staff that made this trip possible, and all of those who contributed gave quotes on their experiences.
Gallery
Check out this photo gallery, complete with quotes from PUSH members, showcasing the incredible people power that PUSH Buffalo brought to the People's Wave, and then how that was amplified by the 900 additional community leaders who joined us from around the country:
"THE PEOPLE'S WAVE" CONVENTION IN WASHINGTON D.C. was held on APRIL 28-30 by People's Action.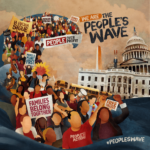 Nearly a thousand progressive activists from throughout the country gathered at the Omni Shoreham Hotel in Washington, D.C. April 28-30 for the People's Action convention "The People's Wave."
People's Action is one of the largest and the fastest growing multiracial, people's organizations in the country. We are 48 member organizations in 32 states, with more than a million grassroots leaders.
Read more about the speakers and workshops held at the conference.