RiseUp is having a dance party to celebrate the life of Ismail Johnson on Friday, October 4, 2019, from 9:00PM to 1:00AM at the Colored Musicians Club of Buffalo, NY.
By PUSH Co-Founder, Aaron Bartley,
Not long after Eric and I and a few friends started knocking on doors as part of PUSH's first neighborhood canvass about 14 years ago, we came across a woman walking down Parkdale on her way to Grant Street.  We introduced ourselves as community organizers working to build a network of grassroots leaders on the West Side.  I moved on to knock on more doors and Eric stayed behind with our new recruit, who I soon came to know as Aminah Johnson.
From day one, Aminah was receptive to PUSH and its aspirations.  At the next PUSH member meeting, Aminah brought her husband Ismail.  In my first interactions with this couple, I made several observations.  I noted that neither of them needed an introduction to the principles guiding the young organization–justice, unity, grassroots power–because they'd both been living lives guided by justice and unity, opting out of mainstream American and its racist, oppressive culture, for many decades.  It was also obvious in those first interactions that Aminah and Ismail were very much in love and had found a way of being together that seemed steady and natural, something meant to be, something rare and beautiful.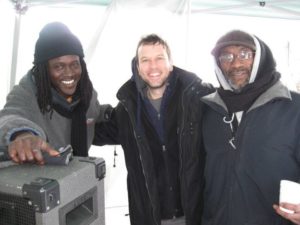 I had been trained as a community organizer to take the time to listen to the ideas of new members, but to listen with specific intent, as method of identifying the new member's self-interest and what held them back from being a powerful public leader.  What nobody had trained me in was a deeper kind of listening, how to listen to notice the poetry of community members, their deeper energies and loves, their passions and the sources of their resilience.    Aminah, who soon became PUSH's first employee, and Ismail, who became a fixture in all facets of the organization, introduced these things to PUSH and brought all of themselves to the new organization, their love for music and dance, their network of friends and family, their nephews James and Kim, their quirks and their hunger for justice.   And in bringing all of themselves, they set a standard for the new organization that I believe is now embedded deeply in PUSH's DNA. As Heron said earlier, they planted a seed.  We are a family here in this room, doing our best to love unconditionally and embrace each other as whole people.
When I got to a deeper place of listening with Ismail, he taught me many things.  He deepened my knowledge of Buffalo history and culture, painting a vivid portrait of Buffalo in the 60s and 70s, sharing recollections of childhood up and down the black-owned business district in his neighborhood at William and Jefferson,   introducing me to sounds of Buffalo music legends like the early funk pioneers Dyke and the Blazers and  JoJo McDuffie of the Mary Jane Girls, whose brother Vince was his best friend, sharing his recollection of the conscious book club he joined in his teens organized by Ismael Reed, before he left Buffalo and went on to worldwide literary fame.
But beyond Ismail the historian and critic, there was Ismail's presence, the zen-like calm he projected, the deep breathing he did that became contagious, the spirited way he greeted everyone he came in contact with, the quiet power he exuded, the carefree and joyful way he danced, how he spoke in a considered, thoughtful, mentoring way as a matter of course, without imposition, how his power came from connection and humility, not loudness or taking up the oxygen in the room.
Over the last 15 years, I have had the opportunity to attend literally hundreds of events with Ismail. Protests, block parties, birthday parties and late-night dance parties. Being there again and again with Ismail has been one of the greatest blessings of my life, for the talents he shared and for the spirit of joy and freedom that came with him.
On special occasions, when everything was aligned, Ismail would come to me quietly in the middle of an event and saying something like, "Aaron, it's magic today," or "the people are feeling it today."
For an anxious organizer wondering if we were on the right path, Ismail's endorsement was the greatest assurance that we should keep on pushing forward.
Ismail Willie Johnson May 24, 1951 – June 2, 2019.
Ismail suddenly transitioned peacefully at home with his Wife Aminah Johnson. An Illustrious Historian, Activist, Musician and Singer Ismail is the originator of Ismail & Co., a music concept that will carry on in his memory.
Ismail spread a tremendous amount of love to everyone he met. Ismail is genuine in every sense of the word and probably one of the most beautiful people you would ever meet. With all his contributions He is no doubt an Uncrowned King.
Rest in Heaven You Sweet Soul. Allahu Akbar
Love Aminah Johnson, wife