Since 2009 PUSH Buffalo has been working diligently in establishing and promoting green infrastructure throughout the City of Buffalo. Since 2013, PUSH Blue has engaged an experienced team to work on projects including green infrastructure, stormwater mitigation, native plants, integrated pest management, and community gardening. The PUSH Blue team also offers trainings in a range of topics led by the only NGICP-certified trainer in New York State.
PUSH Blue can consult on your green infrastructure and sustainable landscaping projects, and deliver them, too.
Why work with PUSH Blue for green infrastructure projects?
PUSH Blue staff are NGICP-certified and have completed over bioretention installations on 19 acres of vacant land across the City of Buffalo projects in WNY to date. They include expertise on native plants, integrated pest management, stormwater mitigation, nursery and landscaping professions, and community planning. PUSH Blue employs workers from disadvantaged backgrounds in the City of Buffalo and gives them the knowledge, skills, and solutions they need to address climate change and economic injustice within their communities.
PUSH Blue offers training in green infrastructure and stormwater mitigation.
Why get certified or hire certified workers?
The National Green Infrastructure Certification Program (NGICP) training offers the green workforce an opportunity to adhere to a nationally recognized standard that promotes exceptional job knowledge and the skills to build, inspect, and maintain green infrastructure (GI) systems. Employees can demonstrate their specialized knowledge to employers, and employers can hire from a pool of trained workers with confidence.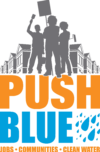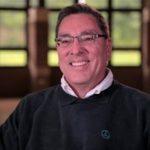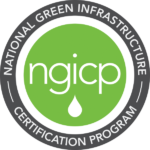 We work with you to customize the curriculum to your needs by offering intensives (1-4 week courses) and extended, semester style, classes wherever you may be.
The benefits of becoming certified by the NGICP include:
Expansion of your skills and knowledge of building, inspecting and maintaining GI

systems.

Greater awareness of GI career opportunities.

Proof of your commitment to supporting sustainable performance of GI practices.

Exposure to employers looking to hire skilled GI workers through the NGICP Certification Database.
For information regarding location, duration, and pricing—or for any other inquiries—please contact Ken Parker, ken@pushbuffalo.org, 716-884-0356 ext. 209.