What do we want? Pass the CCPA! When do we want it? Now!
On Tuesday, April 9th at 4am, a diverse cross section of PUSH Buffalo members boarded a bus from Buffalo to the New York State Capitol in Albany, New York for a day of statewide climate justice action – the #ClimateJusticeCountdown – organized by the NY Renews coalition. On our way to Albany, we stopped by Rochester to pick up more of our partners from Citizen Action of New York, which filled our bus to its 50-person capacity.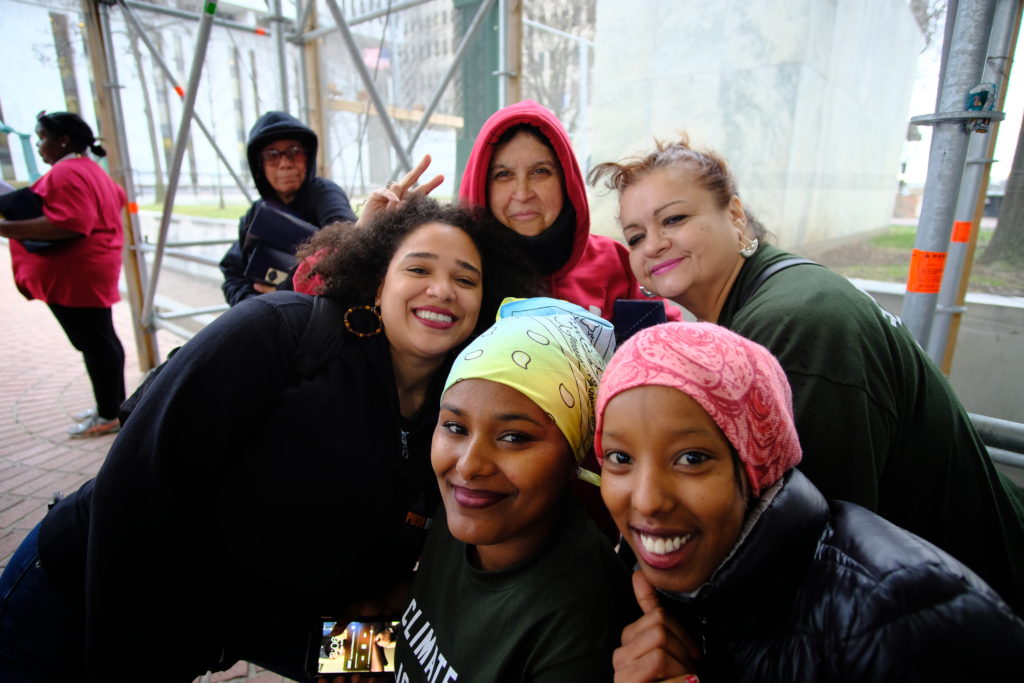 When we arrived at the Capitol, we met up with our NY Renews partners at the "Million Dollar Staircase" for a rally demanding passage of the Climate and Community Protection Act (CCPA) during this 2019 legislative session. If passed, the CCPA would set in law an economy-wide transition to 100% clean renewable energy by 2050, invest a minimum of 40% of climate and clean energy funds in frontline communities, and create tens of thousands of family sustaining jobs in the clean energy sector. The CCPA has the votes to pass in the State Senate and is gaining momentum in the State Assembly where the bill has passed three years in a row. To cross the finish line, the bill must get voted out of various committees to make it to the floor for an actual vote so Governor Cuomo can sign it into law.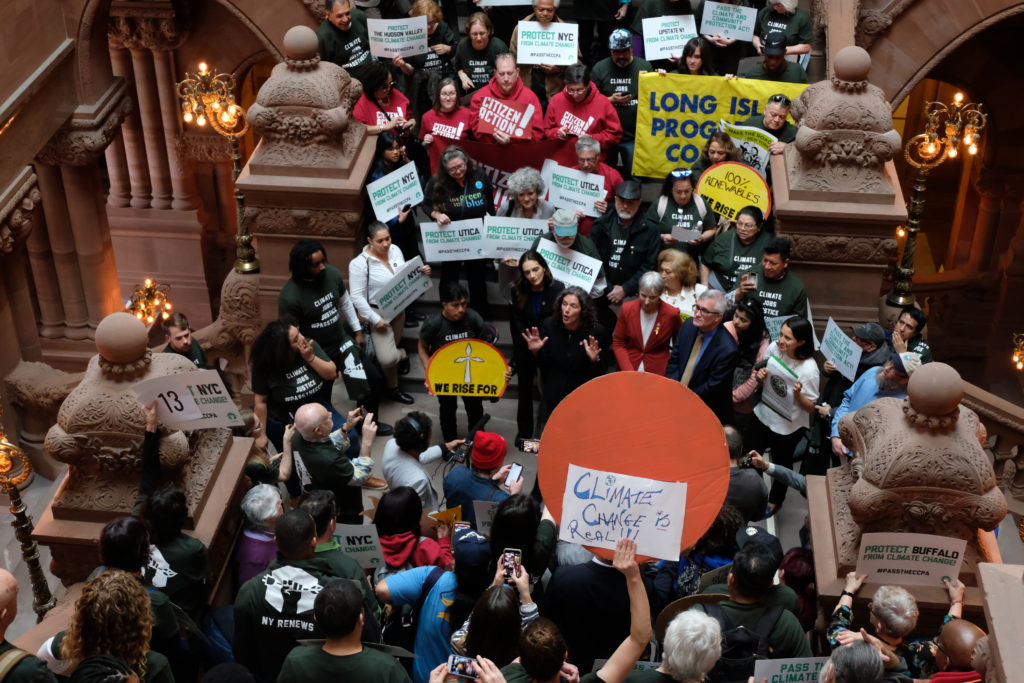 During our rally, mc'd by PUSH's own Geo Hernandez (currently on assignment as a lead coalition organizer with NY Renews), New York State Senators Hoylman, Kavanagh, Liu, Salazar, May, and Metzger all spoke and declared their support for the CCPA and the importance of acting on climate change now. PUSH Workforce Coordinator Rodney Rainey spoke about the importance of connecting workers to good, green jobs.
Following the rally at the Million Dollar Staircase, we broke into small groups of 8 to 12 people and within one hour, visited the offices of all 213 state representatives telling them about the CCPA and why it must be passed this year. The truth is, climate change is already here in the form of increased average temperatures and extreme weather events, and it impacts poor communities and communities of color the most. In 2012, Superstorm Sandy damaged 95,000 buildings, cost New York nearly $33 billion, and caused dozens of deaths. This year, the Polar Vortex adversely impacted vulnerable people across the entire midwest, including Buffalo, for much of the winter. It shattered extreme low temperature records; closed and delayed schools, travel, U.S. Postal Service deliveries, and work; and caused at least 17 deaths.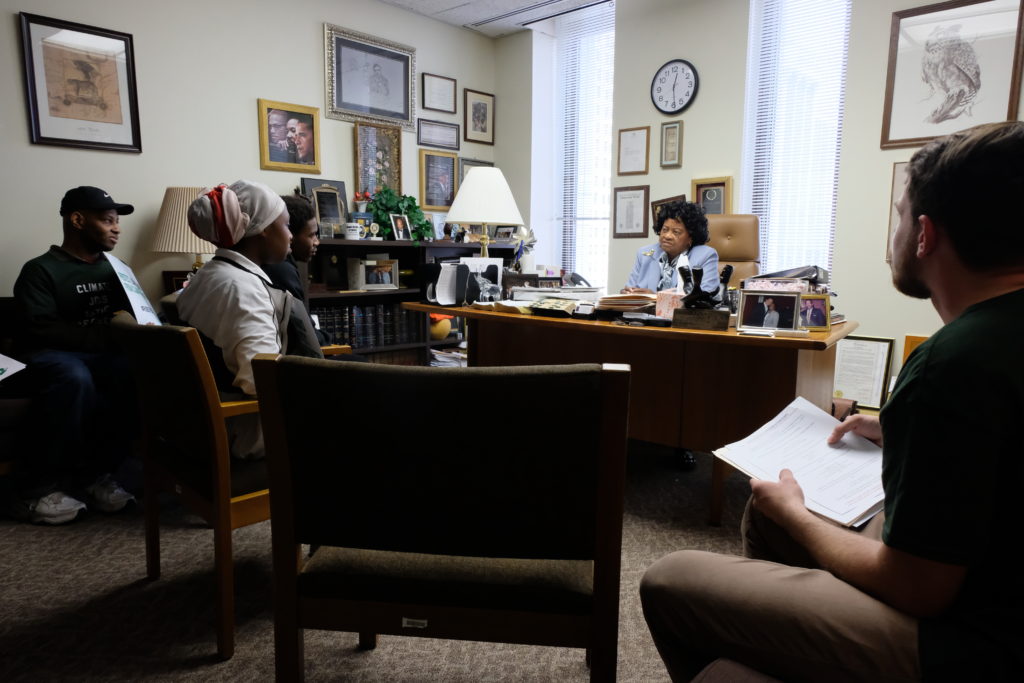 As the groups finished their visits to the legislative offices, we re-convened in the War Room outside of Governor Cuomo's office for more chanting, storytelling, and getting to know one another. We finished the day by eating lunch together, and then got back on the bus for a long, song-fueled and empowering ride home.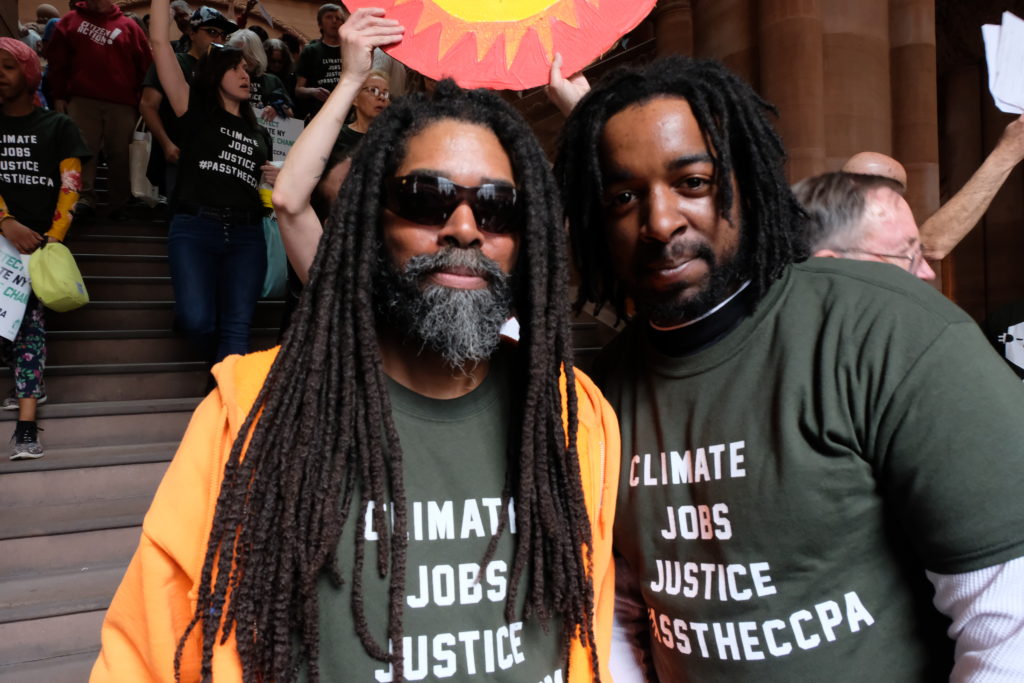 The Climate and Community Protection Act:
Will create an enforceable mandate to move New York State to zero greenhouse gas emissions by 2050.
Is expected to create and sustain 150,000 jobs over the first decade. State-funded jobs will pay prevailing wages over the first decade, and a majority of these jobs will go to people without college degrees.
Will save lives because fossil fuel production leads to respiratory and cardiac illnesses, which causes the death of at least 4,000 New Yorkers each year.
Will operate under climate justice principles by investing 40% of state energy funds in the communities most impacted by climate change: communities of color and low-income communities.