Historic climate legislation a big WIN for the planet; partial victory for frontline communities in NYS
At PUSH Buffalo, we have come to recognize that a transition to a 100% renewable energy economy is inevitable, while justice is not. With the passage of the Climate Leadership and Community Protection Act (CLCPA) in the NYS Legislature this week, real people exercising real power proved that the arc of the political universe in NYS could be bent toward climate justice. This outcome was neither preordained nor politically possible back in 2015 when grassroots advocates, including PUSH Buffalo, united to form NY Renews, a multi-sector coalition of frontline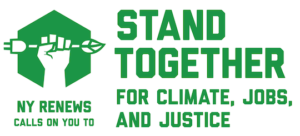 environmental justice, community, labor, faith, and environmental organizations committed to upholding the Jemez Principles. The coalition formed to advance a sweeping climate justice agenda for NY that could set the bar for action by other social movement formations and local, state, and national governments. This agenda, originally articulated in the Climate and Community Protection Act (CCPA), set goals around a just transition to a 100% renewable, zero emission economy in NYS by 2050 that would require state government to allocate a minimum of 40% of climate and energy funds to disadvantaged communities while enforcing progressive, high road labor standards in emerging green sectors. Frontline communities led, at every step, the development of this agenda and the multi-year strategy that forced the NYS Legislature and Governor Cuomo to enter negotiations and pass what is now regarded as the most ambitious climate legislation in the country, if not the world. PUSH and its many partners in the NY Renews coalition pause now to celebrate this historic achievement on climate and to reflect on the serious concessions made by elected leaders that risk undermining the full potential of this action to deliver climate justice and protections to vulnerable communities and workers.
What was won and where the fight for climate justice marches on
Emission reductions
The CLCPA sets in law a goal to fully transition NYS off of fossil fuels by 2050 and legally mandates carbon neutrality — an 85% reduction of greenhouse gas emissions across all sectors of the economy by that same year. The remaining 15% of emissions will be strictly managed by a program of alternative compliance mechanisms, or emissions offsets. The bill allows entities in all sectors, save for the electricity sector, to utilize offsets only under certain conditions and places the burden on polluters to demonstrate the need for such allowances when they first apply and over time, recognizing that direct emission reduction technologies and industrial processes will continue to evolve in the coming years. Guardrails outlined in the legislation will protect environmentally overburdened communities from exposure to pollution and will direct investments in offsets like green infrastructure and forest lands within or as close to those communities as possible. PUSH Buffalo worked with coalition partners to ensure that concessions on carbon neutrality favored by Governor Cuomo were strong and protected vulnerable communities. PUSH remains committed to winning a legal mandate for 100% zero emissions in NY.
Equitable investment in frontline communities
The CLCPA abandons the clear and enforceable mandate in the CCPA that would have required the State to allocate 40% of existing climate and clean energy funding, approximately $370 million per year, to low income and environmental justice communities to enable implementation of community controlled and community determined climate solutions, from rooftop solar to weatherization to training for green jobs. In its place, the Governor succeeded in watering down and complicating the bill's racial and economic equity goals. Rather than a strong 40% mandate, the bill directs state government to allocate 35% of "overall benefits of spending" to disadvantaged communities. PUSH, and other frontline and environmental justice organizations in the coalition, believe this mandate will be difficult if not impossible to enforce and relieves state government of meaningful accountability to the needs/vulnerabilities and imagination/solutions found within our communities. PUSH is committed to continuing the fight for racial and economic justice embodied in an enforceable standard for community reinvestment that's now missing from the CLCPA.
Job standards and worker protections
In a last minute move this week, Governor Cuomo inexplicably removed critical job standards and worker protection provisions from the CCPA, in the process gutting one of the cornerstone requirements for a just transition to a 100% renewable energy economy. Without including these provisions in the law, the CLCPA is counting on the good will of private for-profit industries, contractors, and developers to deliver quality, family sustaining jobs to workers. In our experience, when government fails to mandate community workforce benefits like local and targeted hiring, first source referral, or pre-apprenticeship and apprenticeship utilization, disadvantaged communities and marginalized workers lose and inequality persists or grows. PUSH commits to continue fighting for the rights and dignity of green sector workers, both through the implementation of the CLCPA and in future legislation.
What this means for our community

PUSH Buffalo's concerns that changes in the legislative language of the CLCPA potentially weaken the bill's original intent, are real and should be taken seriously if the State wants to move forward with implementation in good faith. We see the passage of this bill as a big WIN for the planet and a partial victory for our people. The CLCPA creates a framework to begin addressing our climate emergency and dependence on fossil fuels, however this was not the victory we have been fighting for as a member of the NY Renews coalition over the last four years. From the start, NY Renews intentionally centered the voices, the real needs, and the real solutions of those who currently and historically have been on the frontlines of the worst impacts of the climate crisis, economic inequality, and environmental racism.
These issues are intersectional so our solutions need to be intersectional in order to fully address the root causes of our current condition. This was the reason PUSH Buffalo joined the coalition because these are the very same issues we have been fighting for in Buffalo by mobilizing community members to create stronger neighborhoods. In our neighborhood on the West Side of Buffalo, we've modeled what a just transition can look like when led by those with first hand knowledge and direct experience of the intersecting crises we face in our communities — those closest to the problems are closest to the solutions! We've become experts in program and project implementation that spans green affordable housing construction, community-based renewable energy project development, residential weatherization, hands-on green jobs training, green infrastructure and stormwater management, and vacant land restoration. We hold ourselves accountable to high road labor standards and work to expand living wage employment and career opportunities for the unemployed and underemployed; for victims of mass incarceration; and for others seeking access to the green economy.
Make no mistake–passage of this historic bill shows that real people, have real power!
As a member of the NY Renews coalition, PUSH Buffalo will continue to fight in the coming months and years to ensure that investments are directed to communities most impacted by pollution and displacement. For now, our collective strategy shifts from passing the CCPA to ensuring that frontline and environmental justice communities will not be left out of the implementation process and that the equity standards we fought so hard for will be fully realized.
We bent the arc. The struggle continues. Climate justice must be served.
---
Words from the tenacious leaders at PUSH,
"We know that if we are not prepared to govern, we are not prepared to win. PUSH Buffalo, as a founding steering committee member of the NY Renews coalition, mobilized thousands of local-residents to join people from across the state to fight for the most equitable and comprehensive climate justice legislation in the country. Over the last four years, we have brought real people power to the halls of Albany so that those in power can hear firsthand their struggles of living in communities that have become ecological sacrifice zones. They went there proposing real solutions for their communities and for the planet. These countless faces and the NY Renews coalition leadership deserve the credit for the passage of the most ambitious climate legislation in the country."
-Rahwa Ghirmatzion, Executive Director at PUSH Buffalo
"Change that focuses benefits on the planet and doesn't ensure a positive outcome for people, especially frontline folks, is a moot point! Let's make sure our solutions to the climate emergency translate and serve the needs of the communities most affected! These actions are a great beginning. The CLCPA needs to open new avenues toward change that prioritizes the needs of the many over the profits of a few."
–Luz Velez, grassroots community leader and PUSH Buffalo member
"Thanks to the relentless efforts of this coalition to grow in people power and political understanding, change has been achieved. Although not as strong as the original Climate and Community Protection Act (CCPA) that we drafted and pushed for years, the CLCPA is still a revolutionary climate and community bill that gained momentum long before passing through the NYS Senate and Assembly. The impact this legislation will have is now rippling throughout the globe. In thinking about the just transition necessary for our civilization to survive and thrive, those closest to the problems are the ones inherently closest to the solutions. The original vision in the CCPA remains a reflection of that, thus we will continue until policy and practice reflect that. In the meantime, we can pride ourselves in having gone the distance for a major climate victory. In the midst of the climate crisis, we stood up and fought for our people and this planet, and we won a battle. This fight is far from over. PUSH Buffalo and NY Renews will not relent in continuing our struggle for equity and justice that we deserve. Pa'lante."
–Geo Hernandez, Climate Justice Organizer at PUSH Buffalo
---
Hungry for more?